2022 Bronze Stevie® Award for Innovative Achievement in Human Resources
The Asia-Pacific Stevie Awards are an international business awards competition that is open to all organisations in the Asia-Pacific region and are focused on recognising innovation in all its forms, and honouring the achievements and positive contributions of organisations and professionals worldwide.
More than 900 nominations from organisations across the Asia-Pacific region were considered in 2022, and we are thrilled to share that Inkling won a Bronze Stevie® Award in the Innovative Achievement in Human Resources category for our entry: Empowering Australia Post's frontline women with the confidence and clarity to thrive.
To date, the Project ME program has equipped over 1500 female leaders with the skills and courage to challenge the status quo, uncover strengths, lift self-awareness, drive change, and create a culture of inclusion, collaboration, and psychological safety. Participants of Project ME also consistently observe improved engagement, capability, promotion, and retention rates.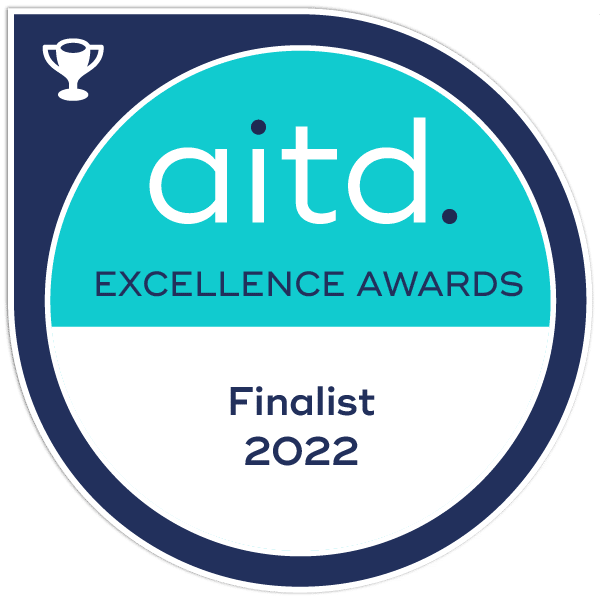 2022 AITD Excellence Awards Finalist
Coveted by companies across Australia, the AITD Excellence Awards recognise the very best of learning and organisational development with nominees coming from not-for-profits, government bodies, small businesses and large multinationals, spanning all industries.
Inkling Group and Australia Post received finalist recognition in the Best Diversity & Inclusion program and Best Learning Culture in an Organisation categories for the ProjectME program at the 2022 AITD Excellence Awards ceremony.
2018 Westpac Business of Tomorrow Winner
Run by Westpac, the Businesses of Tomorrow awards is a national awards program designed to celebrate exceptional organisations shaping the future of business and making valuable contributions to their industry, clients, and community.
In 2018, Inkling was one of 200 businesses in Australia recognised as an organisation that demonstrated the following strengths:
A clear purpose, vision, and strength of character
A positive impact on their clients, communities and employees
A deep understanding of their client's needs
A clear strategy and focus on growth and expansion
Interested in learning how partnering with Inkling can benefit your organisation?
Get in touch today