Learn how your organisation can foster environments where diverse talent can advance and thrive through Sponsorship.
In a time when organisations are looking to drive innovation and high performance, it has become critical to consider the importance of diversity of thought and an inclusive environment to unlock this, particularly at leadership level. Organisations are also increasingly driven to ensure that everyone has an equal opportunity to progress into leadership, should it be their ambition. Advancing in the workplace is no small feat. The hurdles to overcome are countless, and when we look at underrepresented groups, the obstacles are even greater.
Organisations that engage in strategic sponsorship initiatives drive higher retention of diverse leaders, create more inclusive leaders and meaningfully build a diverse pipeline of talent, supporting key DEI goals and exceeding benchmarks. Through our research and work, we know that sponsorship is an effective way for organisations to achieve greater diversity and inclusion, and this not only benefits the sponsees and sponsors, but also impacts the organisation's bottom line, creating better business results.
Join Inkling CEO, Sophie Hampel. and Senior Manager, Client Delivery, Ami Sheehan, in this Inkling Insight Series as they share valuable insights on how to initiate a more deliberate approach to sponsorship within your organisation, accelerating the advancement of underrepresented talent and cultivating a more diverse and inclusive workplace. The research is evident – we'll all be better for it.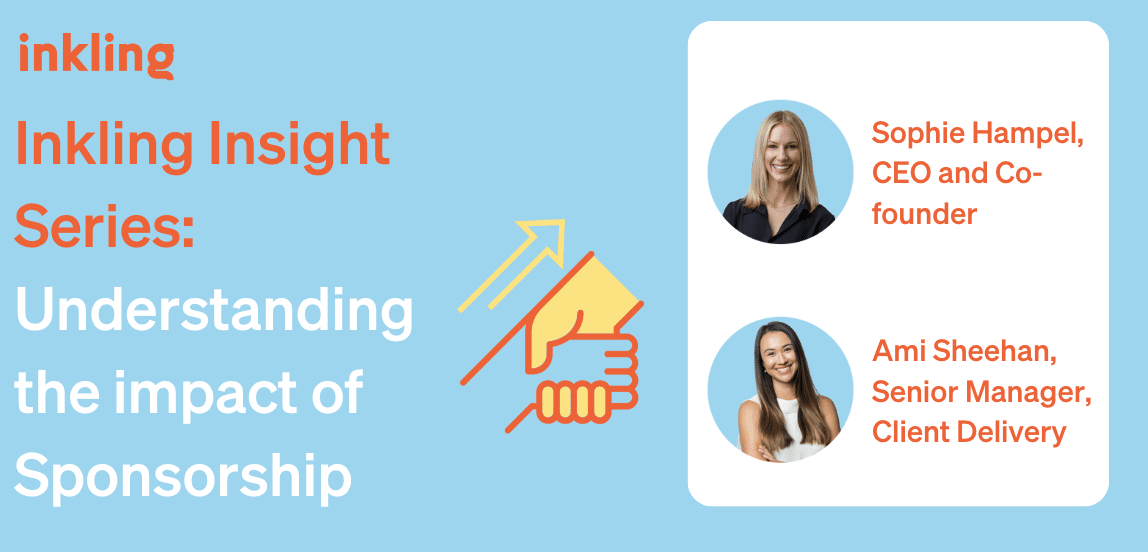 Understanding the impact of Sponsorship
Viewers of this session will gain a greater understanding of:
What the latest evidence-based research along with our own experiences tells us about Sponsorship's impact on talent retention and fast-tracking the advancement of underrepresented leaders within an organisation.
The difference between what it means to mentor and sponsor underrepresented groups in the workplace, as well as the reasons why underrepresented groups are often over-mentored and under-sponsored.
What makes sponsorship effective, how to leverage it to accelerate the advancement of underrepresented leaders at your organisation, as well as tips for making it a common and expected practice for influential senior leaders to step into the role of sponsor.
How CBA is advancing underrepresented talent and inclusive leadership through Sponsorship
Viewers of this 30-minute panel discussion featuring CBA Sponsors and Sponsees will have the opportunity to hear firsthand experiences and insights on what contributes to the effectiveness of sponsorship. This session aims to provide viewers with a deeper understanding of:
How organisations can leverage sponsorship to accelerate the advancement of underrepresented leaders in your organisation and create more inclusive leadership from the top
How to set a sponsorship initiative up for success and measure as you go
The impacts at the individual, team and organisational level