Inkling is thrilled to introduce our latest Insight Series that delves deep into the heart of cultivating inclusive cultures within organisations.
Drawing on the valuable feedback we received from our previous series, where our clients and community expressed a strong desire for hearing more firsthand experiences, our mission with this series is to broaden your perspective by sharing real-world examples and fostering open dialogue with our team of D&I experts, as well as our clients and community, who are walking the path towards greater inclusivity.
From exploring everyday actions you can take as a colleague to delving into the strategic business initiatives that are driving greater inclusion for the organisations we've partnered with, this Inkling Insight Series will serve as a unique platform to explore the nuanced strategies, actions, and initiatives that unleash the full diversity of human potential, helping you to advance and retain key diverse talent, and unlock the true power of diversity of thought and perspective for your organisation.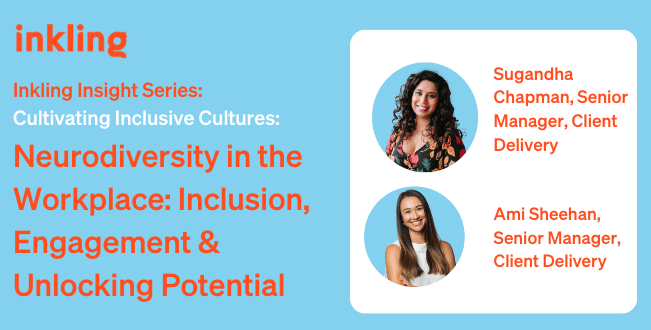 Neurodiversity in the Workplace: Inclusion, Engagement & Unlocking Potential
In this session recording, Inkling's D&I Practice leaders, Sugandha Chapman and Ami Sheehan, provide practical steps you and your organisation can take to make work, work for your neurodiverse employees.
By viewing this session you will gain a greater understanding of:
How neurodiversity manifests and what it truly looks like in the workplace, along with debunking common misunderstandings about neurodiversity.
Actionable steps your organisation can take to support and empower neurodiverse employees, unlocking the full potential of diversity of thought.
How to be an inclusive colleague and a great ally to neurodiverse individuals in the workplace.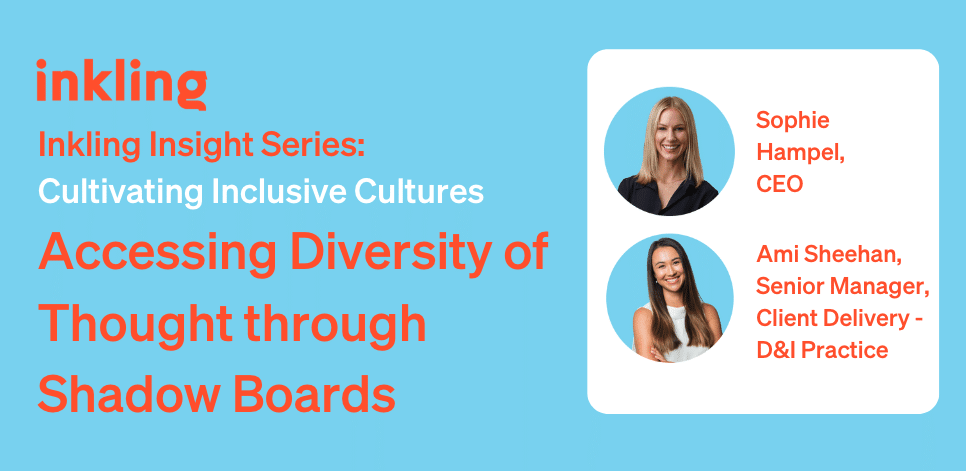 Accessing Diversity of Thought through Shadow Boards
Join Inkling CEO and D&I thought leader, Sophie Hampel, along with Ami Sheehan, Senior Manager, Client Delivery – D&I Practice, as they unpack the power of Shadow Boards in challenging biases and accessing diversity of thought.
By viewing this session you will gain a greater understanding of:
What a Shadow Board does and how it works.
The benefits to your organisation, including how they address biases and drive inclusive mindsets and behaviours.
How Inkling approaches the process design and skill building required to set both your Leadership Team and Shadow Leadership Team up for success.
Future sessions in this series
Session 3: Spotlight on Sponsorship

Date: Early 2024

Our final session of this series will focus on the fundamental question of how organisations can retain their high-potential, diverse talent. Building upon the interest generated by our previous Sponsorship Insight Series, we will delve even deeper into the critical role of sponsorship in establishing a nurturing environment where diverse talent can truly flourish.

More information and registration details coming soon!
Inkling Insight Series FAQs
D&I and Wellbeing champions and advocates of all levels
Diversity & Inclusion Leaders
C-Suite, HR and Wellbeing Leaders
Talent, Engagement and Communication Leaders
In other words, anyone who advocates for or who is responsible for creating inclusive workplaces where every individual can thrive.
Yes, each Inkling Insight Session is recorded and shared with all registrants post-event, regardless of whether you attended live or not.
All Inkling Insight Series will be delivered via Microsoft Teams Webinar, ensuring a secure platform for all attendees.